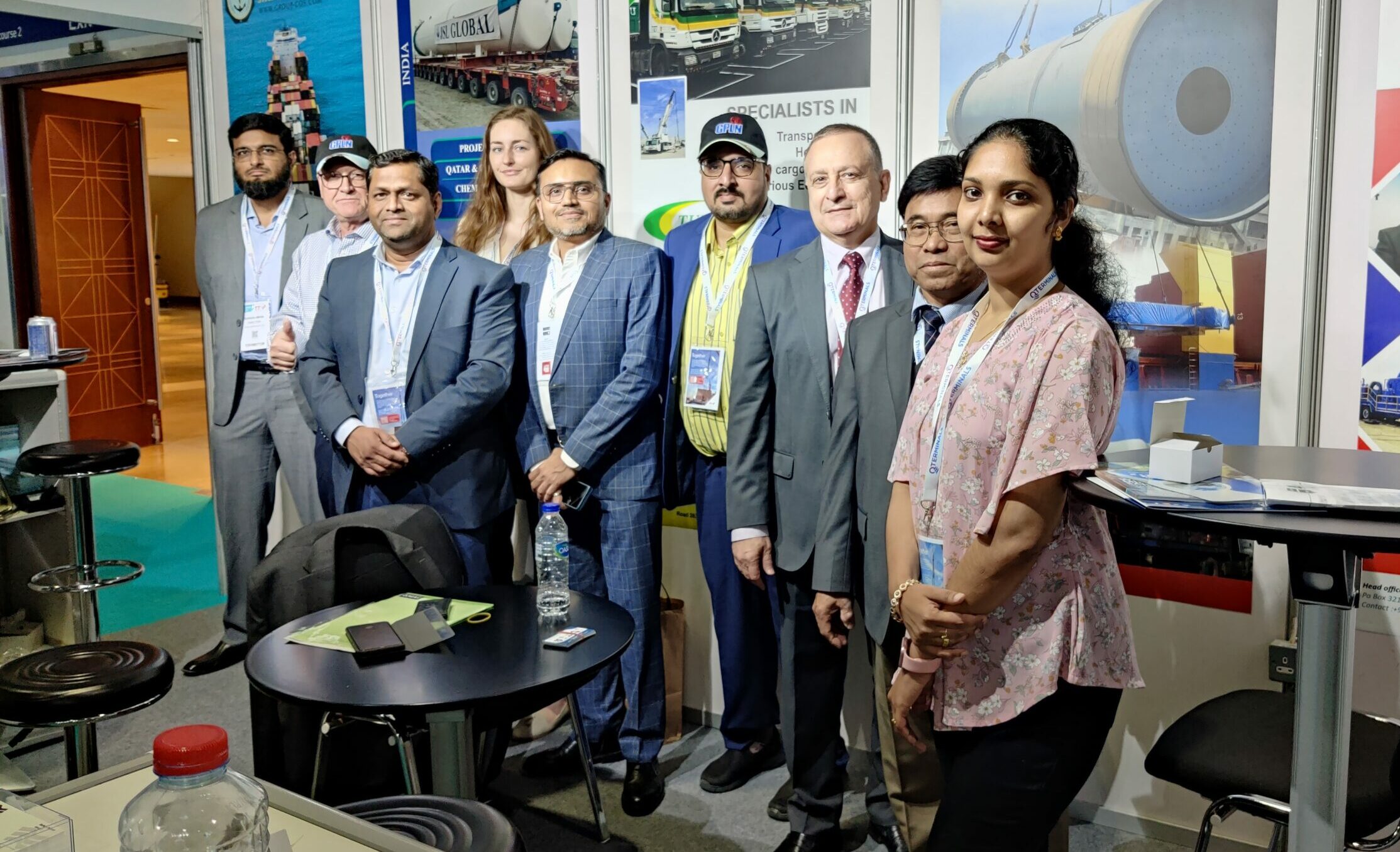 A word from GPLN:                                                                                                           Newsletter Issue 90 / January-February 2023 
Dear Reader,
GPLN sponsor Wallenius Wilhelmsen sees room for cautious optimism for Breakbulk in 2023. With an economic slowdown expected, roll-on, roll-off vessels are supposed to be the safest, fastest and most cost-efficient way to transport oversized, heavy to lift or out-of-gauge cargo. Manufacturers started the new year with confidence as they are working through their backlogs due to a shortage of machines in the construction market. "The widespread parts shortages, port congestion and general supply and demand imbalances that have affected supply chains last year are expected to decrease this year and are already improving as 2023 starts," says Robert Berg, Market Analysis and Finance Manager at Wallenius Wilhelmsen. He stresses that they won't disappear completely because there are limited new vessel supply expected in this segment. However, the economic outlook varies from nation to nation, Wallenius Wilhelmsen says in its review. Rising energy prices, inflation and declining consumer confidence are affecting the global economy.
The need for a more sustainable world has brought a major game changer of our time, the energy transition. For the EU this has become even more urgent because of the war in Ukraine and the need to be less dependent on Russian gas. Cleaner, more sustainable alternatives, such as LNG, are being looked at. Europe is leading the way and has set itself the goal of being CO2 neutral by 2050. The agreement is to reduce CO2 emissions by 55 per cent by 2030 compared to 1990.
Up to now over 120 GPLN members have already registered for our annual global conference which will take place at the Hilton Hotel in Rotterdam from June 3-5, 2023. We are looking forward to another successful meeting with around 180 attendees from all over the globe.
Our renown Heavy Transport and Lifting Seminar is scheduled just after our meeting on June 6, 2023 at the same venue, which is also open for non-members and has still a few seats left.
All relevant details about these events are published on our dedicated pages of our website.
Furthermore, both GPLN events can be combined with Breakbulk Europe which is scheduled from June 6-8, 2023 at Ahoy Convention Center in Rotterdam.
GPLN will exhibit at this event and has secured a prime location in the main hall with a 36 sqm booth (# 1A20) which is the equivalent to 4 regular stands. In the meantime, 12 GPLN member companies from different countries will share our booth which will be another great opportunity for networking.
Best regards,
Your GPLN team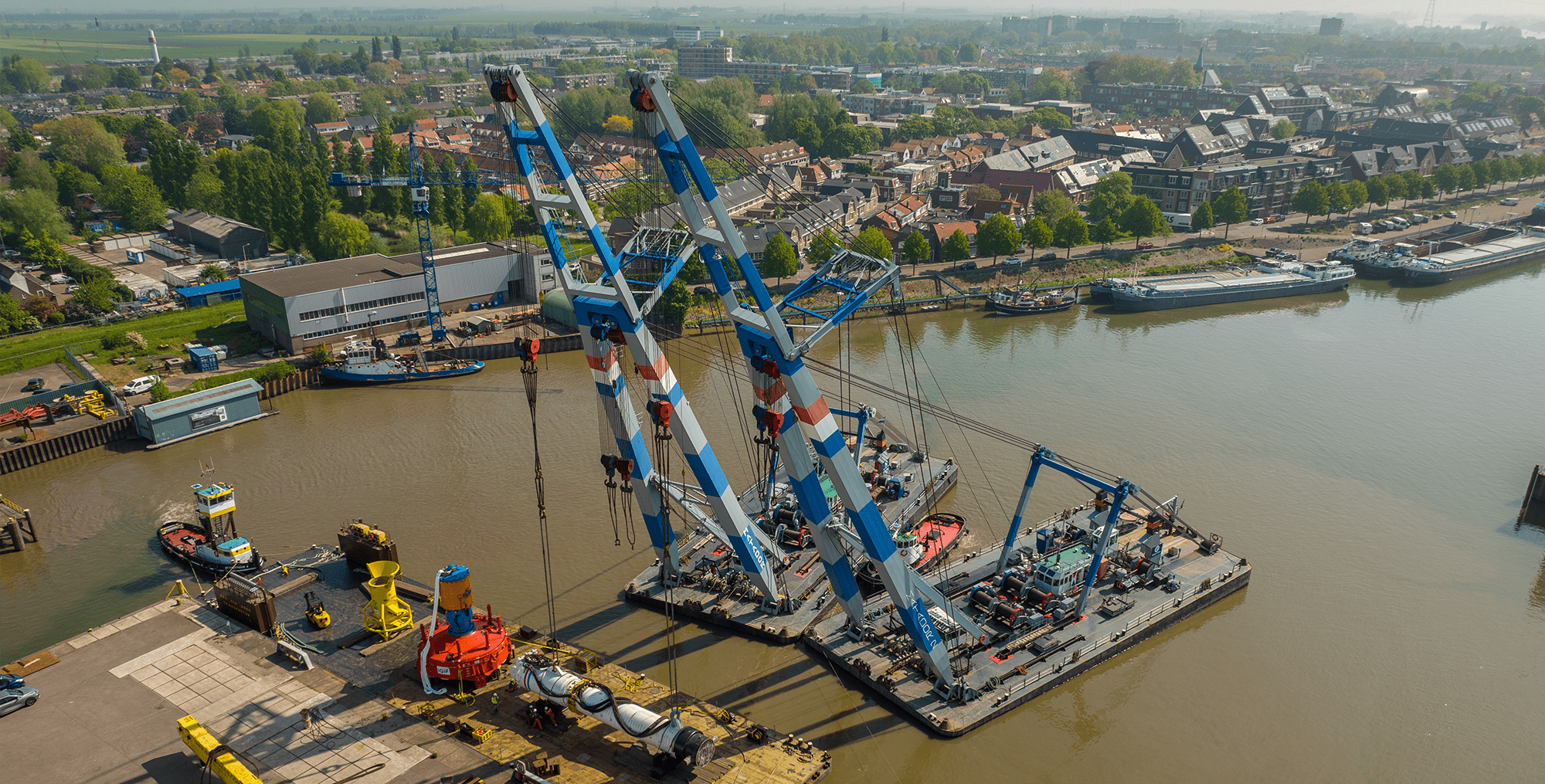 Tiel Logistics ship heavy offshore equipment 
GPLN member Tiel Logistics from the Netherlands arranged recently a shipment for a (de)mobilization for offshore equipment. This equipment was part of a project in the North Sea for Arcadis Ost 1 Offshore Wind Farm where they are working on renewable and sustainable energy. This renewable / sustainable energy improves public health and creates local jobs and a lot more benefits. In this shipment we arranged the floating cranes, pontoon freight and trucking with our own trailers, supply of mats and of course Tiel Logistics coordination.
We would like to thank all the parties involved for the smooth operation.  ''WE CARRY YOUR HEAVY LOADS!''  The heaviest pieces were: 1x unit 21,20m x 5,00m x 4,06m: 460 tons / 1x unit 7,41m x 7,41m x 8,95m: 440 tons. The other 15 units were 150 tons each and below.
Furthermore, Tiel Logistics shipped recently also a Hose Bundle Winch of 47.500 kgs as breakbulk with a container carrier from Antwerp to Singapore. With a breakbulk shipment, the container carrier asked for a direct delivery, which we managed. It was safely loaded / lashed / secured on board of the container vessel. In this shipment we were involved from door to door, and after it arrived in Singapore we managed it there with our partner, as usual. Dimensions: HW15/150: 8,70m x 3,50m x 3,90m.
In partnership with D.W.S & T Project Forwarding from Korea, Australian GPLN member TSL Australia was awarded to handle a breakbulk shipment from GPLN fellow member in Korea.
A 140 tons Road Header and parts were successfully shipped on the AAL Nanjing vessel ex Newcastle, UK to Incheon, Korea which departed by end of January 2023.
Originally the shipment was planned for underdeck stowage, however the carrier took large parcels at last minute and we were therefore only able to offer space on deck. But TSL managed to organize the wrapping done within short notice and delivered the cargo on time to the wharf for underhook loading.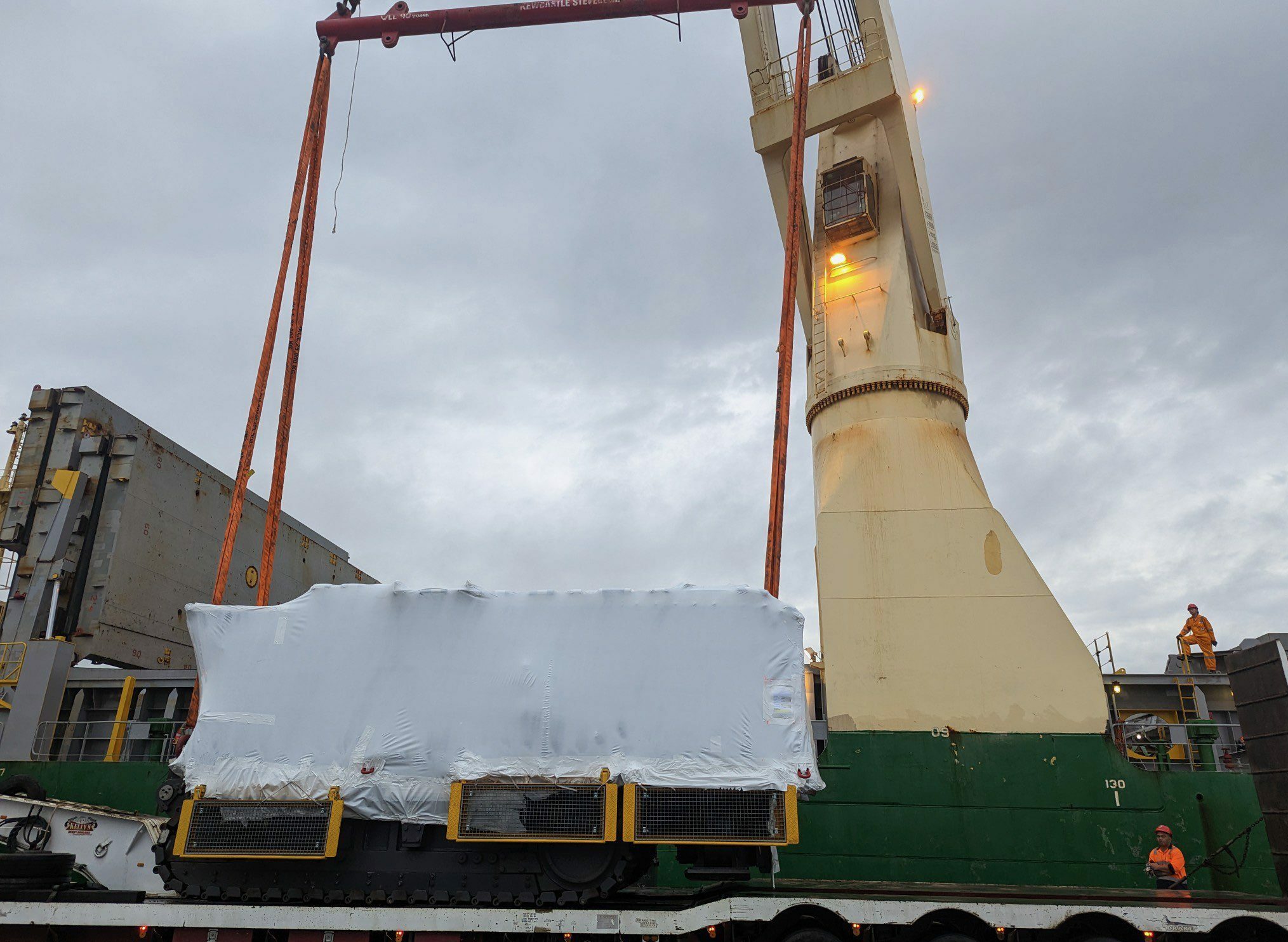 New GPLN Members / January – Febuary 2023

Denmark
Copenhagen
Comodality Group Aps
Estonia
Tallinn
3P Logistics OÜ
Finland
Helsinki
3P Logistics OY
India
Kolkata
Prism Logistics Pvt. Ltd.
Korea
Seoul
KCTC Co., Ltd.
Nigeria
Lagos
KSP Shipping & Logistics Ltd
South Africa
Durban
Turners Shipping
 US
Atlanta
Global Shipping Service LLC
Fleet Line Shipping (FLS) win Hapag Lloyd's Highest Customer Award
GPLN UAE member Fleet Line Shipping (FLS) won Hapag Lloyd's Highest Customer Award for Break Bulk and OOG cargo for the sixth consecutive year. Peter Mathew, Managing Director of FLS, said "We are honored to receive this year's award during the Breakbulk Middle East Exhibition in Dubai, the perfect platform to showcase our abilities as a trusted Project Logistics partner.
We continue to be a leading logistics provider thanks in part to our partners, such as Hapag Lloyd. We would also like to thank our FLS team, clients, and vendors for their continuous support and trust in us. We will continue carving a niche for ourselves as a trusted service provider in Project Cargo Logistics."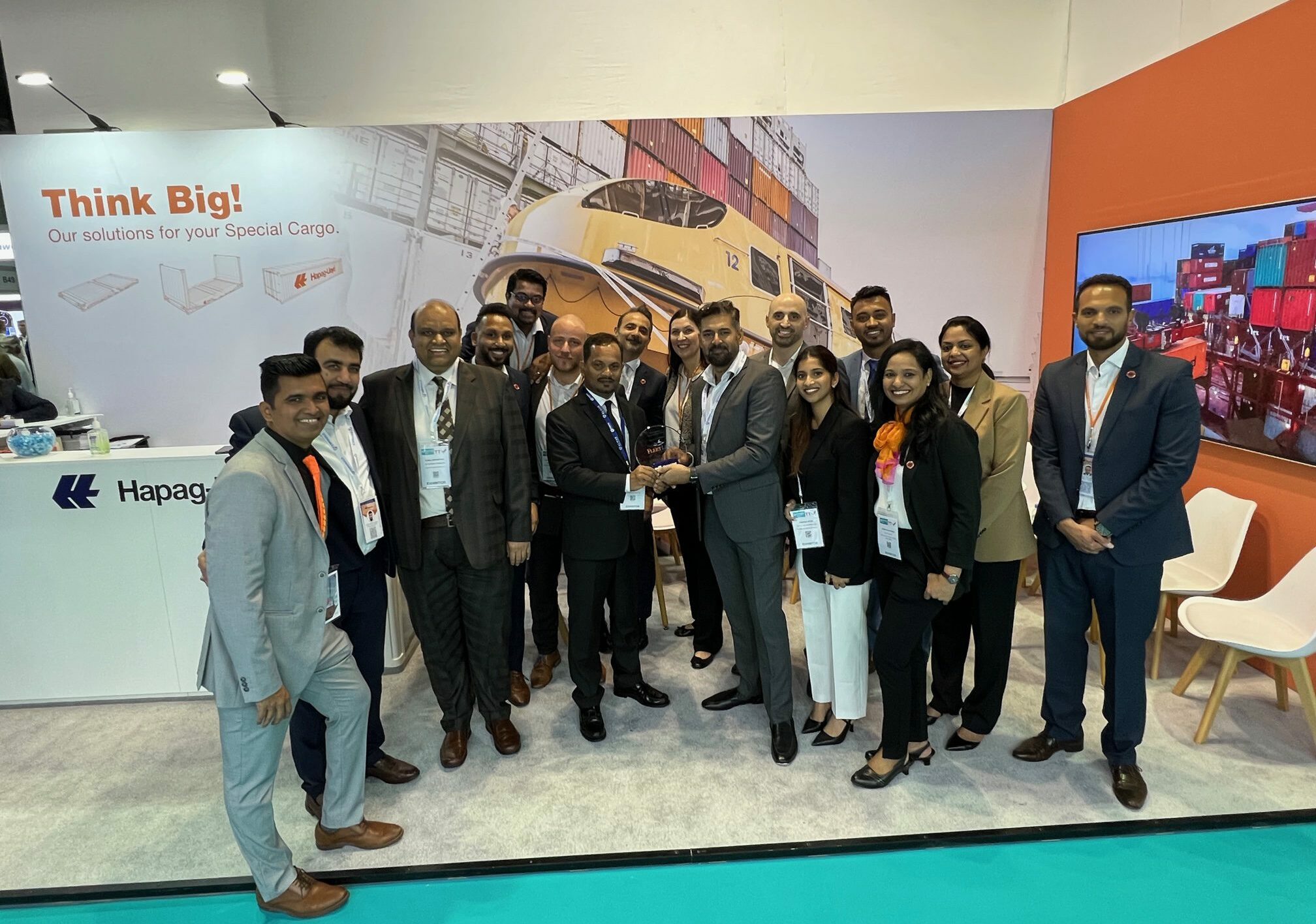 MORY-TNTE transport Super-Sized Project Cargo
Success story from GPLN member Mory-Tnte Mondial Express from Malaysia: we completed yet another challenging oversized project cargo movement. We were tasked to transport these oversized Agricultural Extraction Plant components from Malaysia to USA. Each unit measured 7-8 meters in diameters and 5 meters in height. It was a very tedious and challenging task to transport these units by road to the nearest port.
With the usage of self-propelled multi-axle trailers and police escorts, we managed to overcome traffic and other obstacles. These units we were then loaded onto a container ship vessel for UC (Un-Containerized) stowage method. Mory-Tnte Mondial Express has vast experienced in handling such a UC loading method. Our close relationship with major shipping lines gives us the edge in securing the needed space to handle such oversized project cargo movements on containerized vessel.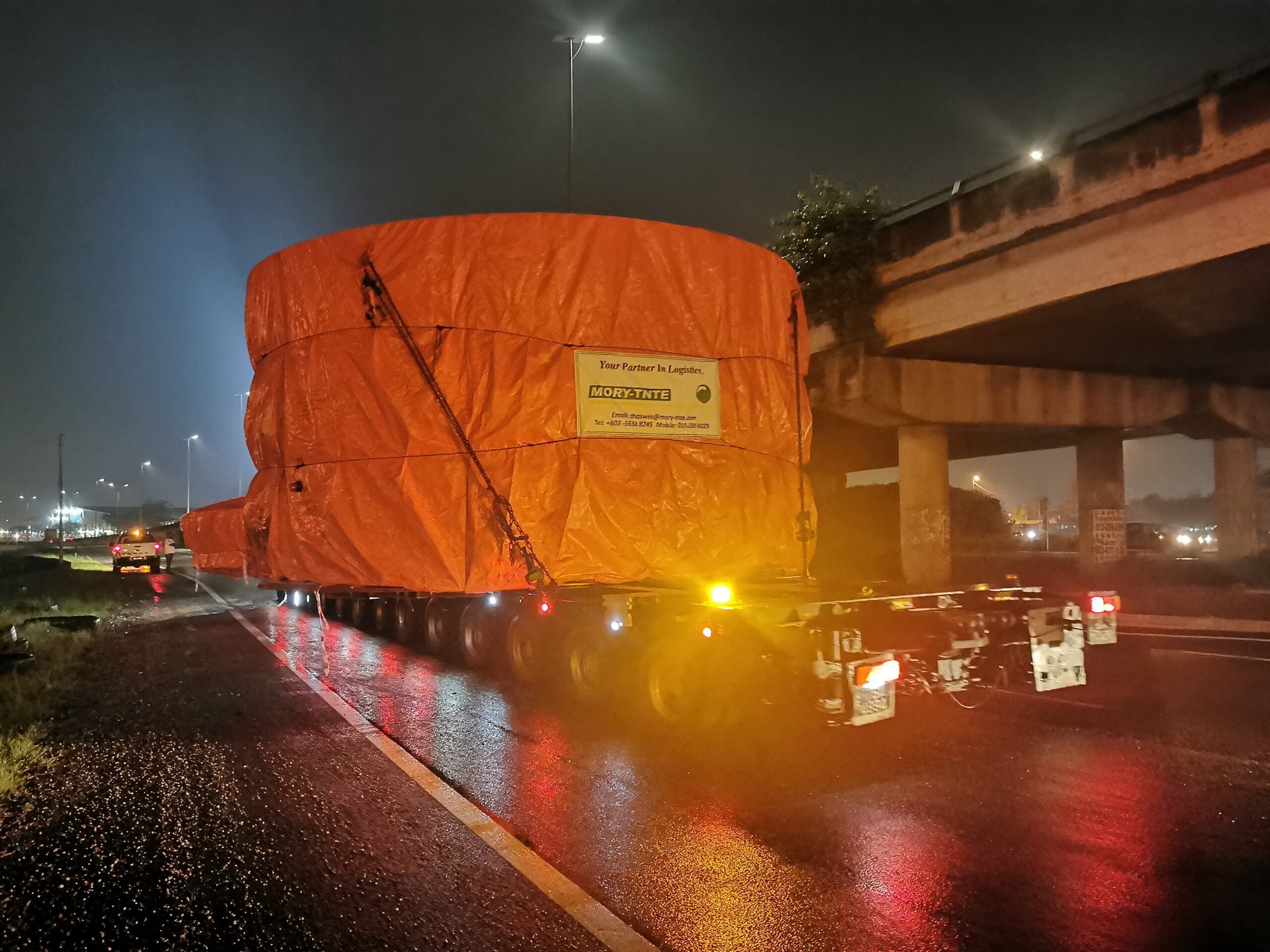 CSS execute oversized project cargo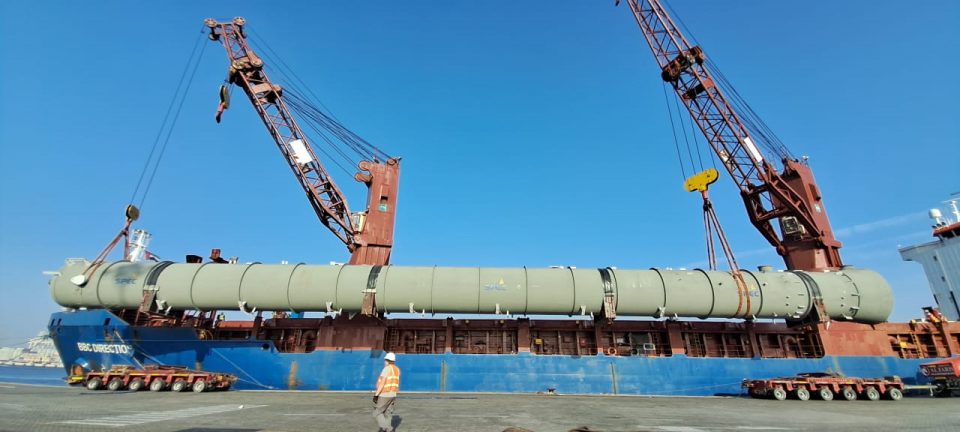 The Industrial Projects team of GPLN member Consolidated Shipping Services (CSS) from UAE successfully executed mission critical oversized project cargo for one of our premium client.CSS' project team was contracted with the scope of trucking 10 oversized packages comprising of heavy Towers, Skids and Pressure Vessels from the fabrication yard to port and getting to the vessel chartered by CSS chartering team to the end destination. Our chartering team sourced the best heavy lift vessel for this voyage in close co-ordination with the trucking partners to make sure all cargo was safely and securely delivered under hook. CSS Industrial Project teams showed again their dedication to overcoming project hurdles and finding the best project solutions for their clients.
Green Worldwide Shipping Import Tile Manufacturing Machinery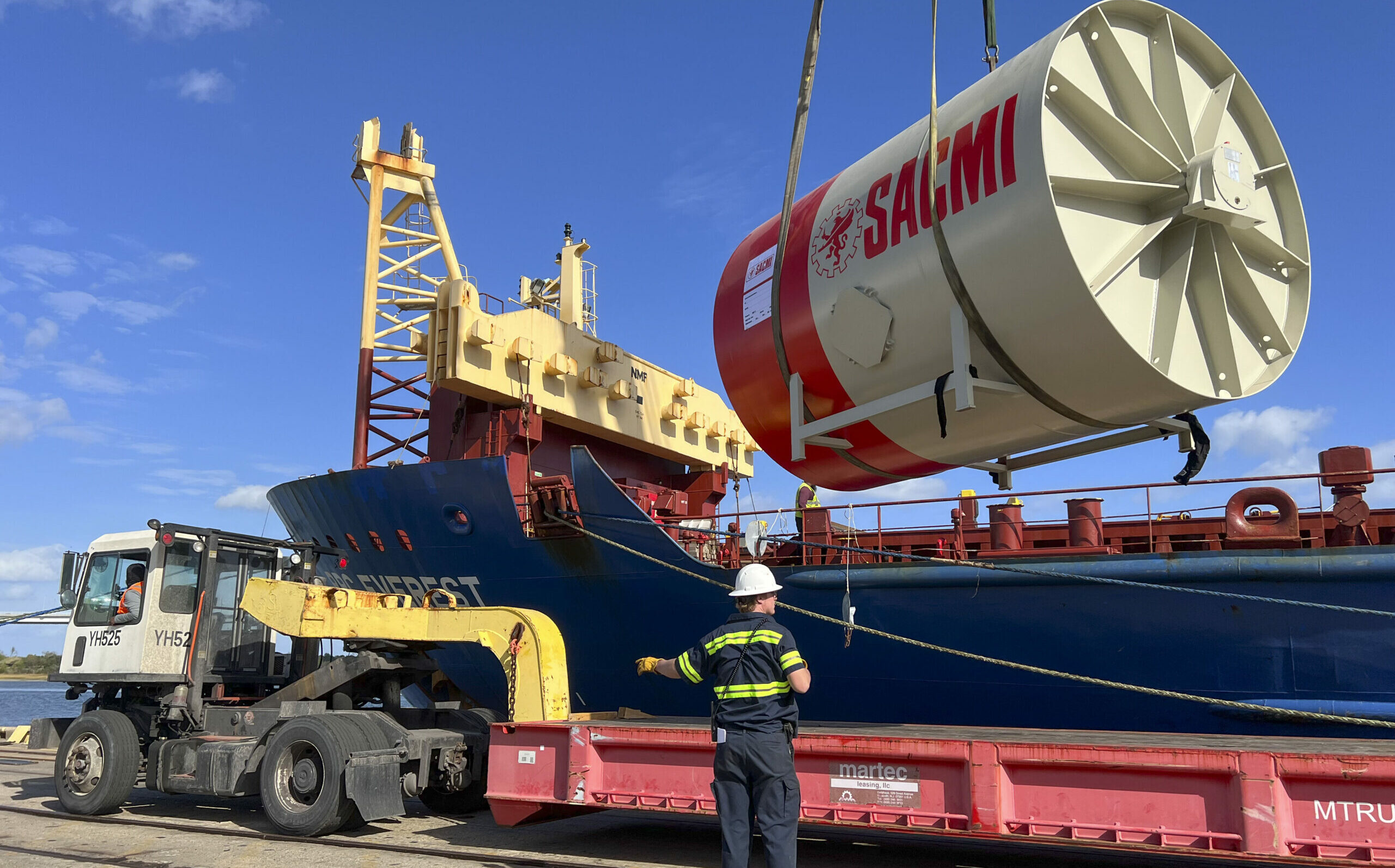 GPLN member Green Worldwide Shipping (Green) from USA handled an International Breakbulk Project and imported over 600 tons of manufacturing equipment for one of the world's most prolific tile producers that is expanding its global operations by building its first plant in North America.
The new plant's aggressive construction timeline, slated for completion in late Q4 2023, necessitated the delivery of massive machinery on a tight schedule. Safely transporting three (3) 109-ton units is a skilled craft that required collaboration with vendors, local, state, and federal agencies for permitting, customs clearance, and compliance to ensure the timely delivery of this massive freight.
Green's project experts developed a comprehensive project plan to move this breakbulk freight from the ports safely to the construction site. Active communication with stakeholders ensured the timely transport of all three 109-ton units. Green's project team anticipated and planned for equipment shortages, preventing costly delays, and provided boots-on-the-ground oversight to verify that the commodity loading, transport, and offloading were flawlessly executed.
Green Worldwide' s project team crafted such a thorough and ambitious plan that there were no significant issues during these moves. Green's efforts made this a seamless process for the customer and helped their construction team remain on schedule for their ribbon-cutting ceremony later this year.
Project Overview: Mode of Transport: Breakbulk Heavy-Haul Drayage / Commodity: 600 tons of Manufacturing Machinery / Originations: Italy and India / Destination: Tennessee, USA / Project Dates: December 2022 until April 2023
MAMQ transport Transformer Main Bodies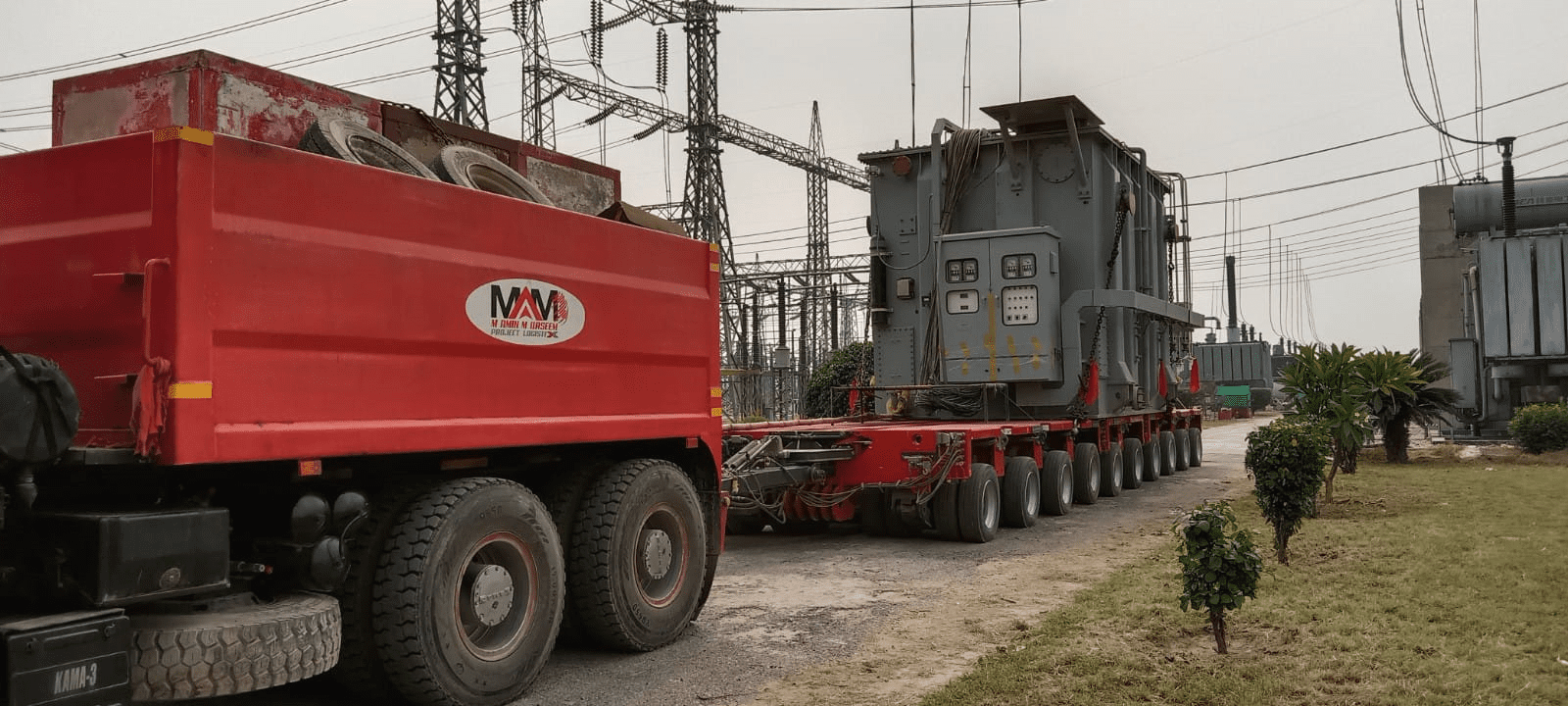 GPLN member M. Amin M. Qaseem (Pvt) Ltd. (MAMQ) from Pakistan has recently received and delivered 2 units of different type of Auto Transformers together in one go on its Goldhofer multi modular hydraulic trailers from Guddu Power Station to Shiekhupura & Rawat Grid Stations. Both heavy-lift ATRs were dispatched with utmost safety & with highly experienced transit escort team of professionals to take-care the sophisticated cargo throughout all journey.
The single-phase ATR weighed 120 tons payload and was delivered from Guddu to Sheikhupura, while the 550KV Auto Transformer weighed around 160 tons payload was delivered from Sheikhupura to Rawat.
MAMQ mobilized its 10-Axle Lines Goldhofer Hydraulic Trailer from Karachi to Guddu Power Station, loaded the single-phase ATR, delivered the ATR to Sheikhupura Grid Station and then re-loaded a 550KV ATR from Sheikhupura Grid Station and delivered the 550KV ATR to Rawat Grid Station.
The biggest challenge in this job was the provided lead-time which was successfully matched according to the client requirement. Both transformers were delivered to 2 different Grid Stations with perfection in all spheres.
KCTC manage Mexico DBNR Project
The Dos Bocas New Refinery (DBNR) project, which GPLN member KCTC from Korea participated in, is Mexico's largest oil refinery, which will be built with an investment cost of 10 billion dollars under the pledge of the Mexican president.

It is a project that receives great attention from the government, with the Mexican president and the energy minister visiting the site several times. 4 vessels sailed (1 self-propelled barge and 3 heavy lift carriers) from various countries, which were Korea, India and Vietnam, into the project and successfully transported approximately 216,000 CBM's. Cargoes were 3,400MT of pipe rack modules, its heaviest module was 1,100MT, and 90,000CBM of Boiler modules for refinery. KCTC supplied 4 vessels, sea-fastening, unfastening and naval architect engineering in this project.

Shipment was commenced after a year of engineering and feasibility study. As the vessels passed through the great ocean, we needed to analyze the ocean weather until the vessel arrived, as well as continuous monitoring at special points such as the Panama Canal to ensure that the ship met the requirements of the canal and passes without delay.

In particular, one of the vessel's was shipped in overhang condition and it was pointed out by the Panama Canal Authority, but we were able to get the permit as we thoroughly studied the structure of the lock gate and the modules. KCTC deployed our own specialists to each port for loading and discharging and we made a successful operation at the end.
SCT Logistics handle various projects
GPLN member SCT Logistics from Vietnam handled recently many OOG projects cross border to Cambodia. One of these projects from Vietnam to Cambodia was successfully transported by SCT Logistics JSC Commodity: Two units of fixed column suitable for a LIEBHERR Cargo Crane Type FCC. Volume: 28 packages, 65 Tons and 168 CBM.

Furthermore, they delivered also successfully to client 2 units of Hydraulic Crawler Drills with a dimension of 8.635m x 2.4m x 2.81m each and 8 packages of accessories from Yokohama to Cambodia, via transit in Ho Chi Minh port.

Finally, SCT Logistics arranged the delivery of an over-length cargo from Hai Phong, Vietnam to Turkey on 01 x 40'FR. They offered a solution at reasonable cost to client while ocean freight had the trend to increase. The cargo was successfully delivered by international sea transportation and door delivery to jobsite with a dimension of 12,873m (L) x 1,76m (W) x 2,78m (H).
Kita Logistics completes transport for a cement mill
Kita Logistics, a GPLN member from Turkey, has completed the door to port transport of a cement mill from Turkey to Benin, Africa. The largest piece was 4.70 meters in diameter. The OOG pieces were loaded on container vessels on flat beds. For the two largest pieces a total of 9 x FR were used as base for lashing and securing the cargo.

Sometimes, using a breakbulk vessel may be expensive for out of the way destinations and using container vessels as project cargo carriers is an economical and safe way to move OOG equipment. Kita Logistics has a dedicated project team since 1998 and is an experienced project forwarder.
Wallenius Wilhelmsen optimistic for year ahead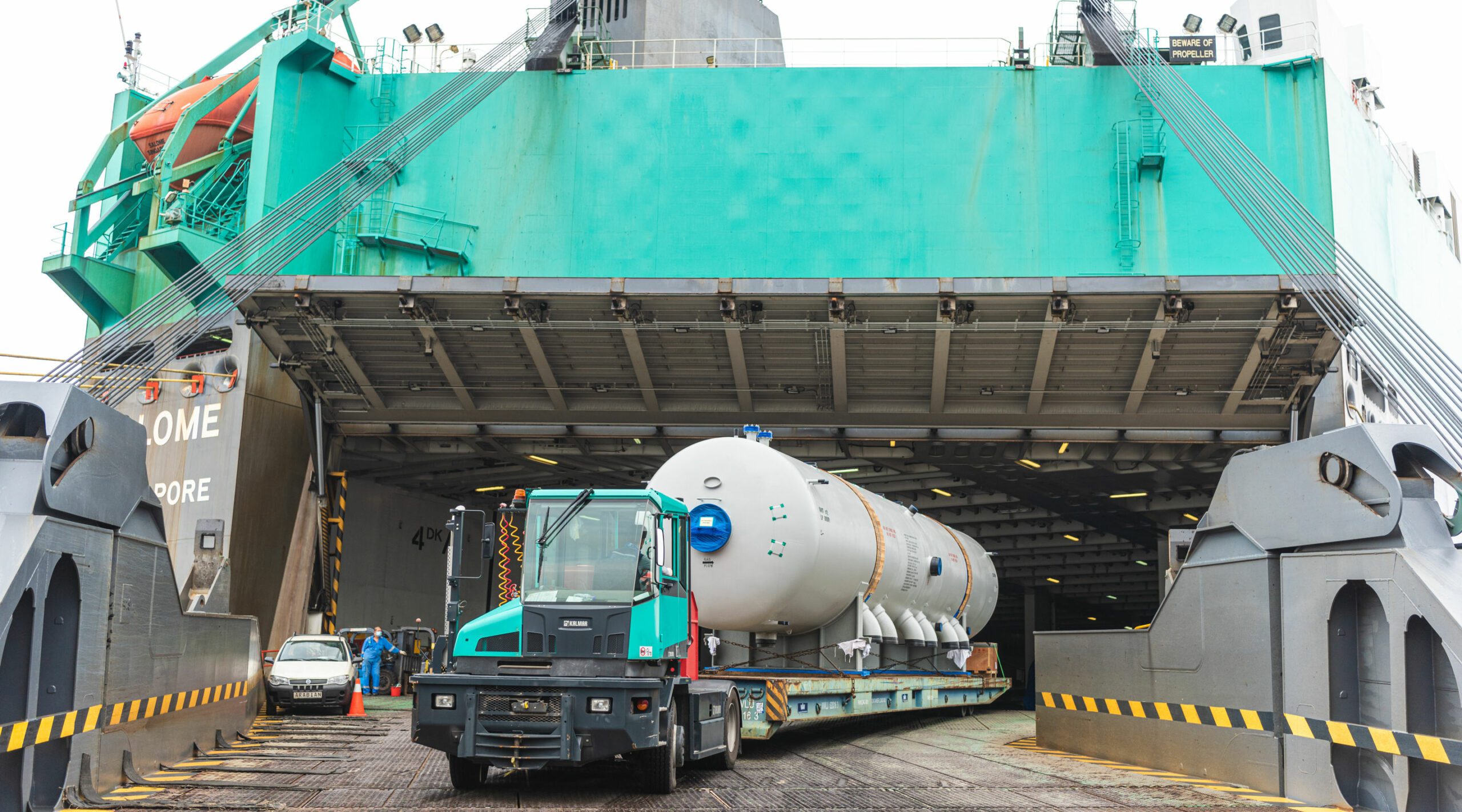 Ro-ro operator and GPLN Supporter Wallenius Wilhelmsen is cautiously optimistic about the prospects of the breakbulk industry next year.
While an economic slowdown is expected, the carrier said that there is cause for optimism. Robert Berg, market analysis and finance manager at Wallenius Wilhelmsen, said: "The widespread parts shortages, port congestion and general supply and demand imbalances that have affected supply chains this year are expected to abate somewhat next year and are already improving as 2022 ends."
Nevertheless, the economic outlook clouds the picture. While this varies from nation to nation, rising energy prices, inflation and declining consumer confidence are weighing on the global economy, which is forecast to grow only modestly at about 2.2 percent in 2023, according to the Organization of Economic Cooperation and Development (OECD). The need to decarbonize shipping also complicates the picture, added Wallenius Wilhelmsen, with the International Maritime Organization's (IMO) carbon intensity regulation set to come into effect on January 1, 2023. This will impact capacity. Berg said: "Our job is to follow IMO regulations while taking advantage of two key trends expected to continue in the breakbulk market in 2023: the drive for energy security and decarbonization, which drive investment in renewables and electric vehicles; and supply shortages in the construction equipment market leading to higher prices."
With the global focus on both sustainability and energy security, investment in green energy is ramping up – and fast. The transition to clean energy has led to an 8 percent increase in the renewable capacity in 2022. This is expected to remain steady in 2023. Renewables have the potential to reduce the EU's dependency on Russian natural gas next year. This increasing focus on energy security alongside strong policy support in the EU, China and Latin America is accelerating their development, added the carrier.   Statistics also show that electric vehicle sales are booming. This market (and all industries connected to it, both upstream and downstream) look strongly poised for long-term growth, said Wallenius Wilhelmsen. McKinsey predicts that in the USA, 50 percent of all vehicles sold will be electric by 2030. By 2035, all new cars that come onto the market in the EU will be zero emission. All these changes mean that demand for metals used to manufacture EV batteries is expected to grow strongly. This can result in the possibility of an emerging 'Supercycle' for commodities, or a permanent step change in demand that cannot be met by supply, leading to prices sitting above incentive levels for an extended period. For example, demand for nickel and cobalt is expected to soar over the next three years compared to the last commodities Supercycle (which took place between 2003 and 2007). Growth in the lithium market will be more modest but still pronounced as demand for electric vehicles continues to grow. The transition to cleaner energy is also expected to see the market for transformers grow strongly over the remainder of the decade, as smart electricity grids are implemented.
"From speaking to our customers, we see new strength in the commitment to investments in sustainability, decarbonization and electrification. It is our job to support and facilitate that by both improving the sustainability of our own operations and acting as part of the supply chain for environmentally-friendly technologies such as EVs," said Magnus Ödling, vice president, global industrial account development.
In the construction machinery market, there is a shortage of machines. This means that the outlook for 2023 is for relatively high continued sales as manufacturers work through their backlogs. Because order books are full and lead times are long, many suppliers are sold out well into the new year, according to Off Highway Research. And because supply is tight, manufacturers have also been able to increase prices against a backdrop of high inflation. "2022 is shaping up to be a peak year for construction machinery, but volumes will remain strong in a historic context next year," Berg explained.
Overall, Wallenius Wilhelmsen said, while the economic outlook for 2023 is uncertain, the breakbulk industry can take advantage of underlying trends in the energy and construction sectors to ensure a successful year.
3PL complete important project for Estonia
GPLN member 3PL from Estonia successfully delivered oversized and project cargo for a new facility in Auvere "Enefit Power" 2. In this northern hemisphere with winter conditions. We used two heavy mobile cranes to unload OOG (from ship to trucks) and port cranes for unloading other cargoes up to 40 tons.

Route survey, unloading, lifting, port operations, transshipments, slingers, storage, permits, heavy transport, etc. were also carried our but 3PL. The heaviest transport was over 170 tons (total truck + trailer +load), we used Scheuerle heavy modular trailer 10 axles with an extendable beam and MAN ballast tractor 250 ton + SPMT.  The port had restrictions and special requirements for crane berth ground loading. 

Our services included transportation of project cargo from port Sillamae to Enefit Power Auvere Ida-Viru, Estonia in December 2022 / Condensing Tower 33,60 x 5,46 x 4,66 m, 84,37 tons. 

Transportation of oversized cargo from port Sillamae to Enefit Power Auvere Ida-Viru, Estonia December 2022 / Heat exchanger 9,40 x 3,00 x 3,70 m, 58,2 tons.

Transportation of oversized cargo from port Sillamae to Enefit Power Auvere Ida-Viru, Estonia December 2022 / Extra Heavy Duty Oil Collection Vessel 11,60 x 3,80 x 4,00 m, 23 tons.Transportation of oversized cargo from port Sillamae to Enefit Power Auvere Ida-Viru, Estonia December 2022 / Pre-assembled Air Cooler 11,75 tons 8,00 x 2,60 x 3,60 m, plus 29 flatbeds in December. We used a total of 33 trucks. Goods were Made in Italy. We will continue confidently to participate in European energy projects in 2023.
Holleman transports electric transformer
GPLN member Holleman from Romania recently moved an electric transformer who was donated to Ukraine by the European Community and loaded it onto a vessel in Lithuania for a journey to Constanta, Romania. On a route of 622 km in total, the transformer was carried from Constanta trough Ialomita, Buzau, Vrancea, Bacau, Neamt, Iasi and Suceava counties in about 6-8 days.

The dimensions of the transformer were: Length: 12.26m / Width: 3.7m / Height: 4.8m and a total weight: 197.2 tones. Holleman was using a modular trailer of 24 axes, with 8 wheels each, having total dimensions as follows: Length: 48 m / Width: 3.7 m / Height: 5.8 m and a total weight of 303.6 tons.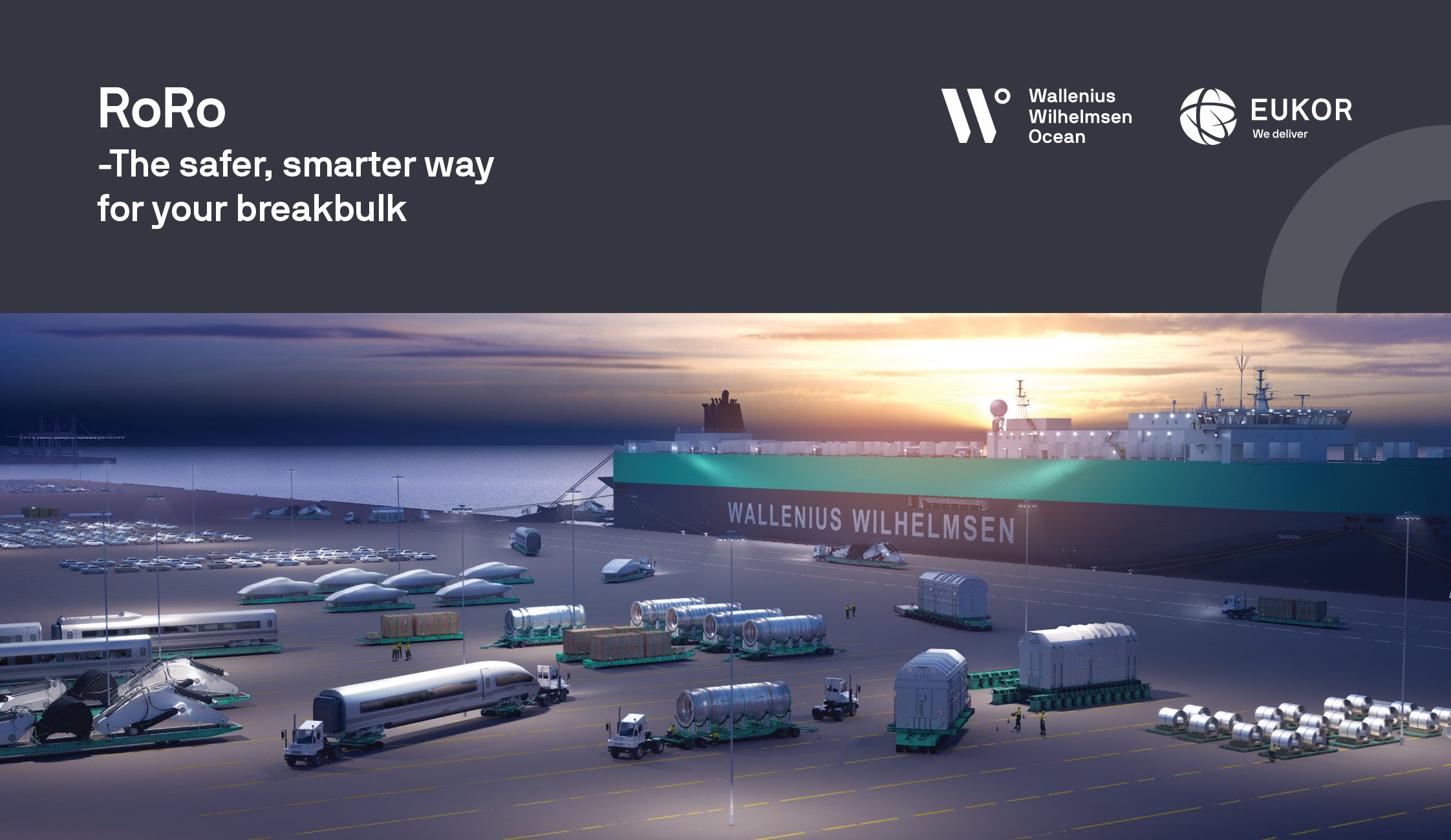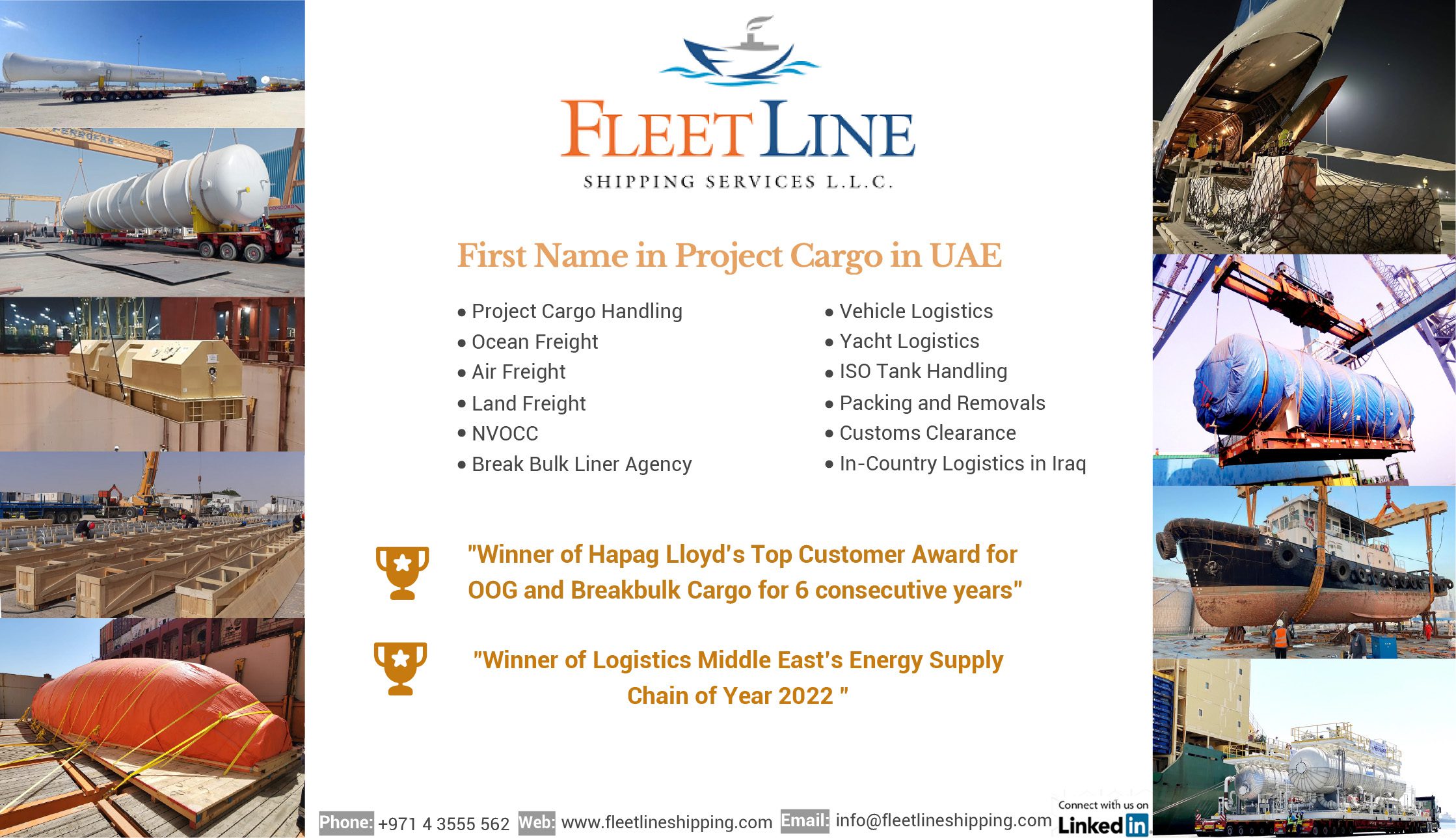 Total Movements ship critical mining equipment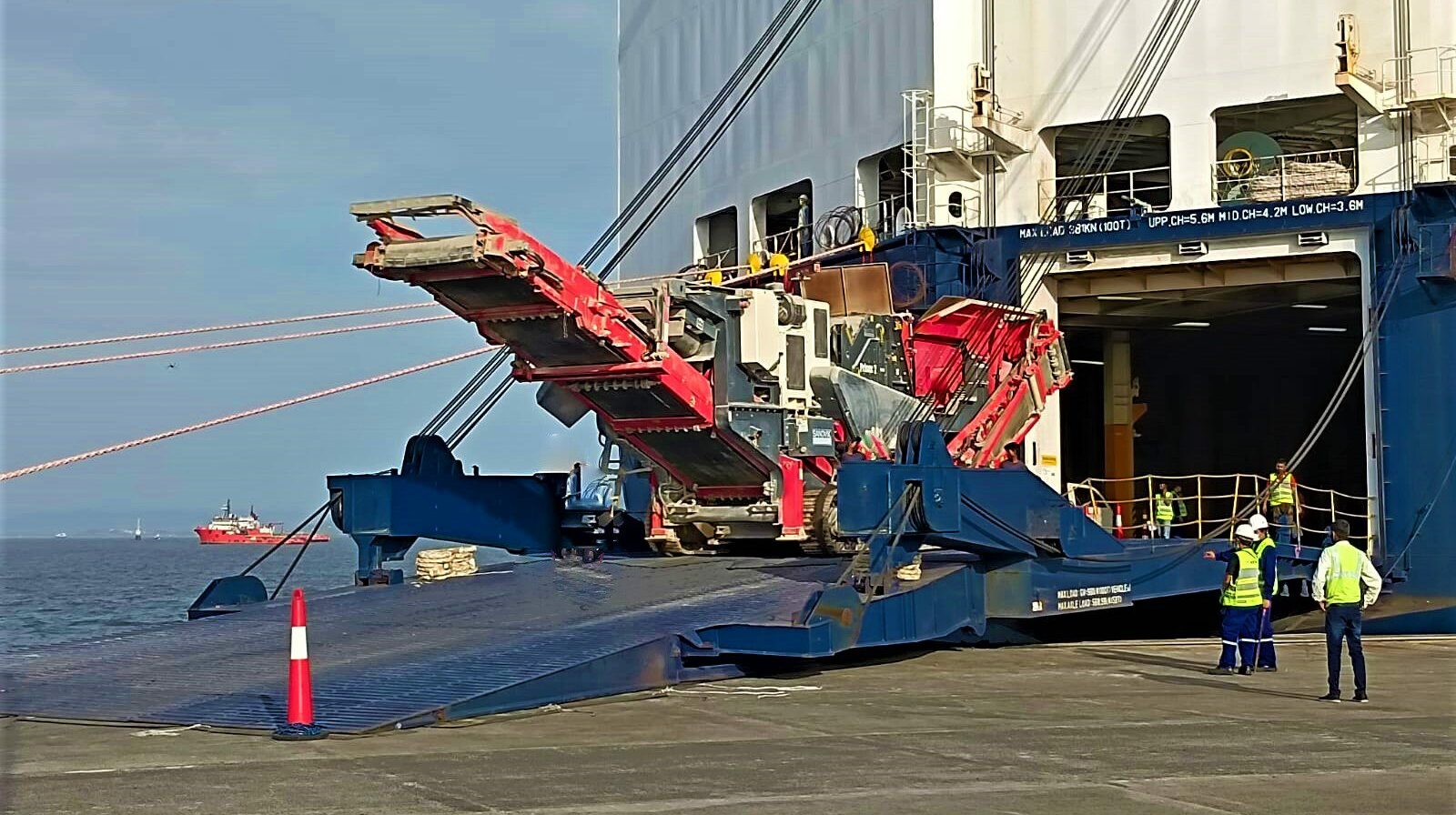 GPLN member Total Movements from India successfully moved critical mining equipment from foreign ports to the final site in India. An end-to-end movement that demonstrates how Total Movements moved this critical mining equipment through different legs / modes to meet customer expectations and timelines.
A 55MT Mobile Crusher unit was transported, loaded and shipped from the foreign load port in a RORO vessel with all the required safety precautions related to its lashing / bedding.
A 34MT Mobile Screening unit was planned to be loaded and shipped on a RORO vessel from a different load port. However, due to lack of space & suspension of sailings the cargo had to be moved by other modes. Our team worked closely with the agent / carrier to load this odd-sized cargo in the breakbulk mode using shore cranes.
Both these units were duly received at the Indian port by Total Movements for further transport to the final site. All the cargo was delivered in a safe and timely manner much to the delight of our customer. We'd like to express our gratitude to all the stakeholders who supported us make this shipment a huge success.
Prologis Freight accomplish heavy lift movement
GPLN member Prologis Freight Projects Team from India accomplished another successful heavy lift movement for one of their premium clients. This project had two weeks of preparation, 5 Prologis Freight core team members and 2 countries involvement in co-ordination with three parties.  The project included 9 packages (557 FRT), the heaviest package was a Gear Box weighing over 158.7 tons with a dimension of L6m x W4.6m x H3.65m from Hamburg, Germany to Mumbai Port, India.

This project also included another Gear Box of 115.5 tons, Grinding Table of 59.5 tons along with its accessories. This was a time bound movement and executed around Christmas/New year holidays in Germany, which affected the entire supply chain. However, Prologis managed all the activities smoothly and delivered the cargo well on time. Special thanks to our vessel owners, the exceptional support from the technical and chartering team, and entire Prologis Frieght Project team for this flawless mobilization of heavy breakbulk package and meeting the client's super critical deadline
Megalift delivers Generators for Power Plant
GPLN member Megalift from Malaysia delivered recently two units of Generators for a 1,200 MW Power Plant. After handling close to 200 shipments for the construction of a 1,200 MW Gas-fi­red, combined-cycle Pulau Indah Power Plant in Port Klang, we welcome the arrival of Generator Stators. There were two units along with many smaller packages comprising parts and accessories. We received the Generator Stators from the port and transported to the site for the lifting and positioning to be done.

Megalift was appointed as the official project logistics service provider in Malaysia, and we will be taking charge of all transportations until all the shipments are delivered. The project is expected to see its completion in the year 2024.

Cargo Details: Generator Stator (2 units) / Dimension: L11.89 m x W4.86 m x H4.92 m / Weight: 453 tons each
Best Global Logistics ship spares
GPLN member Best Global Logistics recently shipped spares from Dubai to Rotterdam. With the rise of oversize cargo transport via container ships, traditional weight loss measures are no longer the only option. Onboard ship spares lashing has emerged as a reliable and efficient alternative, providing a secure method for transporting heavy lift items while ensuring the stability of the vessel. In this article, we will explore the growing trend of onboard ship spares lashing and its advantages over traditional weight loss measures.
We will look at a recent example of successful transportation using onboard lashing equipment, highlighting the effectiveness the method for heavy-lift transportation. How container ships are utilizing onboard lashing for oversized cargo Onboard ship spare lashing has become a popular solution for securing heavy lift items. This was recently demonstrated by the successful transportation of a Bow Thruster, weighing a massive 67,000 kg and occupying 174 cbm of space, which was successfully transported from Dubai to Rotterdam using onboard ship spare lashing.
Moving away from the traditional focus on weight loss, the transportation industry is now looking towards more efficient and cost-effective solutions for securing cargo. We ensured that the shipment was properly secured before departure. The onboard lashing equipment was utilized to secure the vessel and ensure that it remained stable throughout the journey. We monitored it closely to ensure that it remained secure and that the vessel's stability was not compromised. The shipment arrived safely in Rotterdam, demonstrating the effectiveness and dependability of onboard ship spare lashing as a heavy lift transportation solution.
Container ships are now equipped with onboard lashing equipment. This method ensures the cargo remains secure throughout the journey, reducing the risk of damage or loss. This innovative solution has been gaining popularity due to its numerous advantages, including increased efficiency and cost-effectiveness.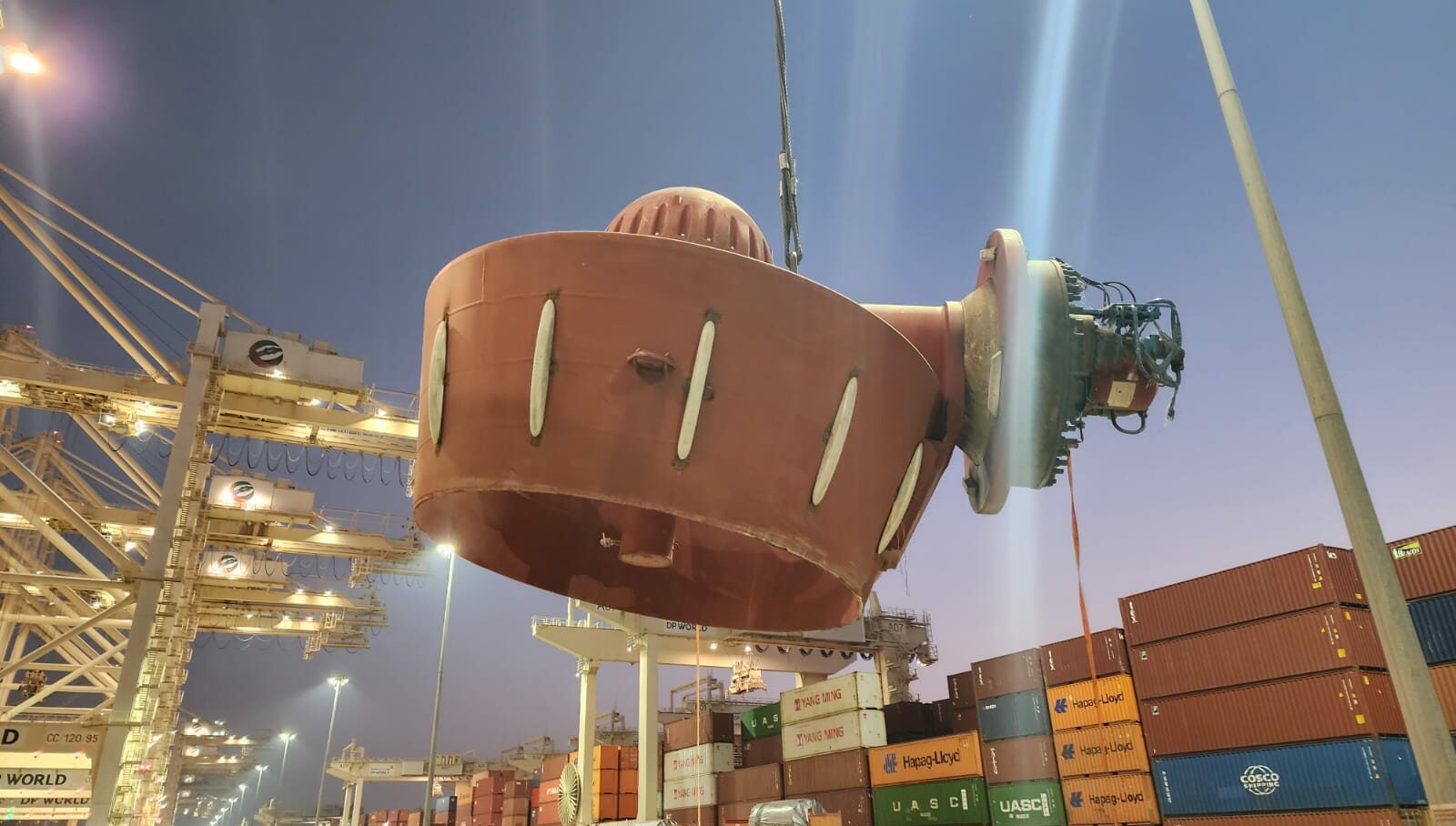 PROTRANSER handles multiple shipments
GPLN member Protranser from China delivered in December 2022 cargo from Qingdao, North China, to Central and South America. The cargo was a Grinding Mill Cylinder and the weight and dimension of the cargo was 74.000 kgs / L14.110 x W4040 x H4090 MM. The original plan was to ship it from Shanghai as BBK, but the carrier changed schedules and canceled the shipment suddenly after the shipper delivered the cargo to Shanghai. Our team offered an alternative solution in a short time which was to deliver the cargo to Qingdao by truck and book space on a breakbulk vessel.

The carrier required to add other lashing points to the cargo body, but after careful discussion by the engineering teams of the seller and buyer, it was not possible because it was not safe to the cargo. Due to this fact we also helped to provide a professional lashing / securing plan for it. Finally, the cargo was shipped successfully.

Protranser's team delivered also 4 sets of wind blades from Taicang, China to Rostock, Germany. The length of 3 sets was 75 meters and the length of the rest one is 69 meters. Working scope included picking up cargo service, chartering service of breakbulk vessel. Protranser delivered 1800 CBM cargo from Karachi, Pakistan to Umm Qasr, Iraq for an Oil & Gas project. The weight of the heaviest unit was 45 tons, the widest one was 6.1 meters and the highest one 4.7 meters. The commodity included a Condensate Drum, Deaerator Tank and so on. Working scope was chartering service of a breakbulk vessel.

 © Protranser International Logistics Co., Ltd. All rights reserved
Furthermore, Protranser delivered also over 200 CBM of equipment from Changshu, Jiangsu province, East China to North America. Our working scope included picking up service (from Hangzhou, Zhejiang province, 330km away to Changshu), port service and chartering service of breakbulk vessel. Protranser delivered also over 13,000 CBM of steel structures and equipment from Qingdao, North China to Oran, Algeria. All cargo was shipped in two lots for a 2.5 million tons of direct reduced iron project. Working scope included port service and chartering service of breakbulk vessel.Protranser delivered also over 3,000 CBM equipment from Shanghai to Laem Chabang, Thailand, for a bridge construction project. All cargo were shipped in two lots by breakbulk vessel. Working scope includes port service and chartering service of BB vessel.
In another shipment Protranser delivered Roll Rubber Conveyor Belts to overseas by containers vessel and breakbulk vessel. They shipped 10*20'OT from Shanghai to Laem Chabang, Thailand with a weight of each roll of 11 tons; and shipped 2 rolls of 44 tons from Taicang to door in Canada via Baltimore port in US, including an inland transport distance of 2,500 km.Protranser delivered also over 2,000 CBM construction machineries from Lianyungang, East China to 4 different PODs in the Persian Gulf. The lot of cargo included 11x wheel loaders and 12 motor graders, which were loaded on the same BB vessel. Working scope was from picking up, port service and chartering service of BB vessel.Finally, Protranser delivered 9 tanks from Shanghai to Taiwan for a Chip factory expansion project. Total volume was 9pcs / 119.45mt / 734.52 CBM. Working scope included port service and chartering service of BB vessel from Shanghai to Kaohsiung.
Polaris Projects division busy in January 2023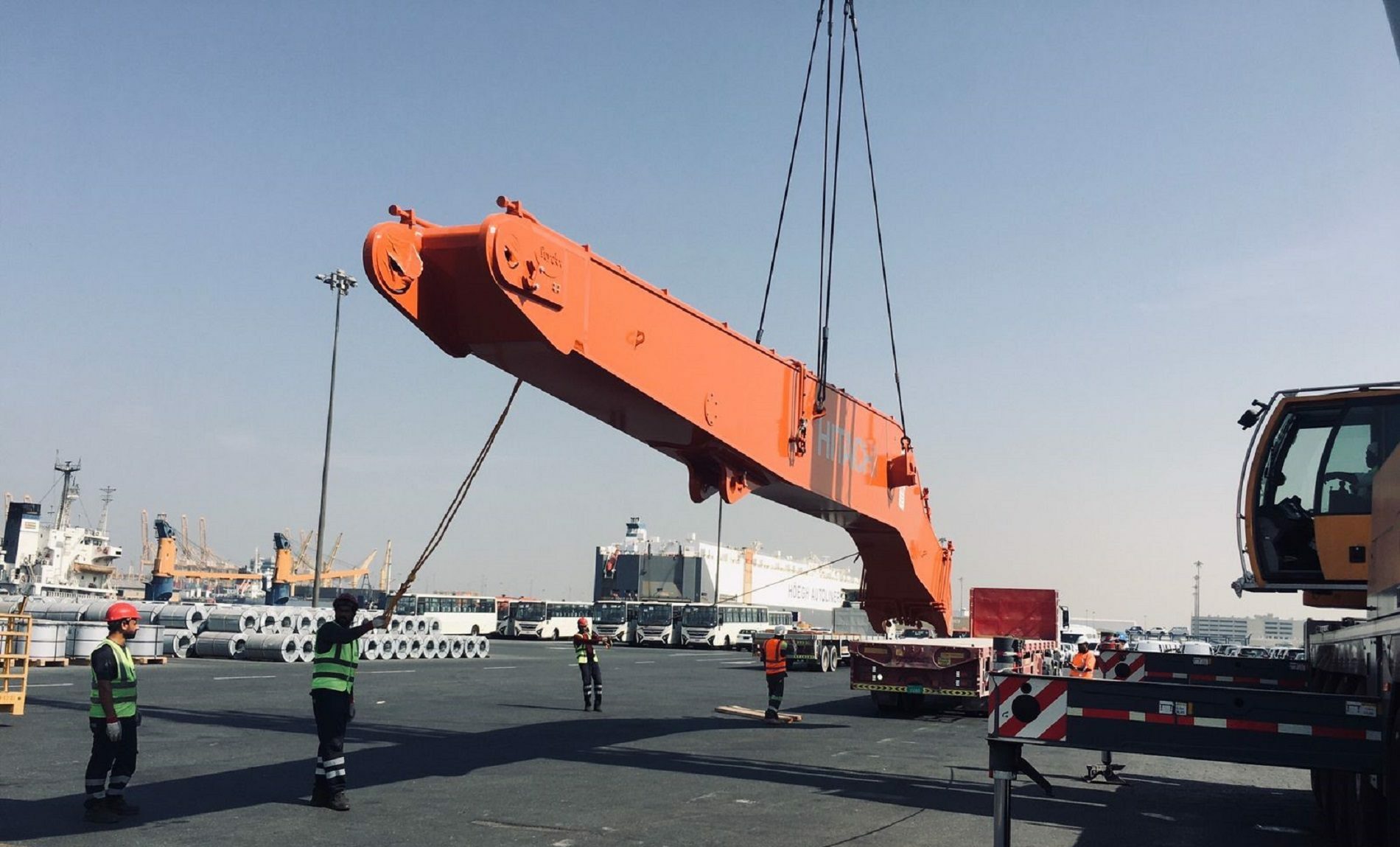 GPLN member Polaris Projects, project division of Polaris Shipping Agencies LLC, United Arab Emirates opened 2023 with a busy January, thanks to our overseas associates & partners, esteemed clients who made this possible.
Polaris Projects in total handled a parcel of 15000 freight tons of Carbon Steel Seamless Pipes at Jebel Ali for our multiple close Clients with our scope being receiving the cargo from under hook vessel, arranging to shift the pipes to Polaris nominated handling yard for dismantling of the bundles and further delivery to receivers nominated centers for necessary treatment.  Thanks for Polaris's special pipe handling team/ suitable purpose-built handling spreaders to execute the dismantling process with zero damages. This pipes after treatment will be shipped to Far East and CIS destinations which also will be handled by Polaris on completion of required lining process by relevant contractors. As far as handling of Pipes, Polaris team handle pipes in all Middle East Ports for several reputed Pipe Manufactures in addition to providing competitive freight solutions by Air / Sea or dedicated charter services as well as over land transport to other GCC depots. Polaris scope for above project covers following;
1.Receiving of bundled pipes from Under hook vessel / 2. Shifting to our dedicated storage area / 3. Sorting / segregations, delivery to nominated yard / 4. All import and export procedures + Ocean Freight as Break Bulk/ Containers / 5. Condition survey/ reporting throughout as required by Clients
Polaris Projects also successfully completed shipment for the Al Qatrana IPP 2 Combined Cycle Power Project, Jordan as well as several critical shipments for the under 20 Asia Cup to be held in Tashkent, Uzbekistan. For Al Qatarana Project, site located in Amman, Jordan all shipments were to be moved on temporary export and to be returned back on completion of project which was smoothly handled to the satisfaction of all involved.
Furthermore, Polaris moved around 18 x 40' special trailers & 10 x Low Beds with Construction equipment's from Abu Dhabi, UAE to Amman in Jordan for our close Clients. Polaris with its network of border agents at all exit / transit points are able to arrange seamless road freight to/from all GCC destinations irrespective of the type and size of cargo.
We would also like to take this opportunity to thank sponsor to thank all of our sponsors for their great support or our upcoming 18th Annual General Meeting in Rotterdam. Please see below the names of our supporters.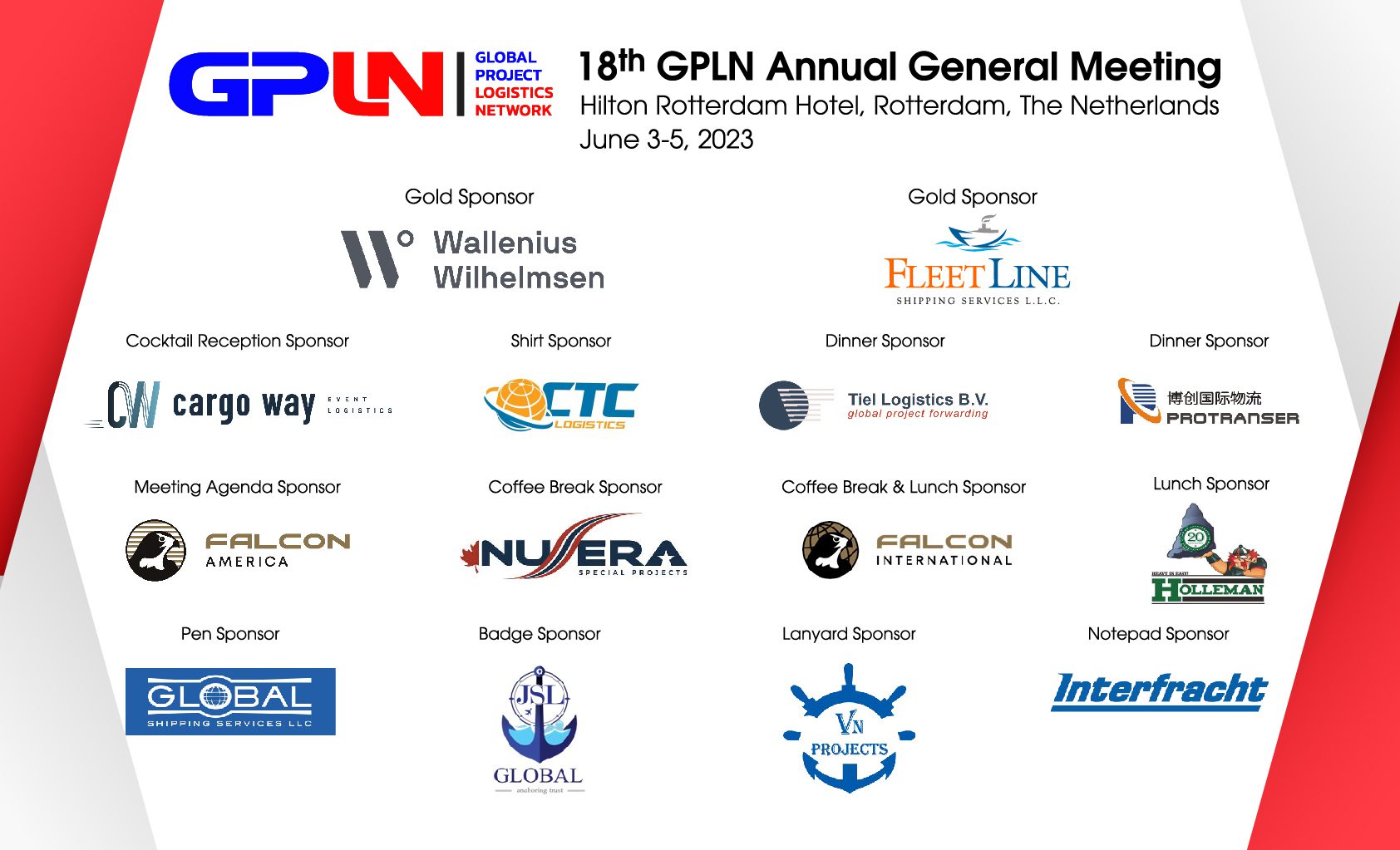 The Secret to Effective Leadership
Alamelu Ramaswamy, Group COO at India-based GPLN member McS Logistics International, explains the secret of effective leadership in the shipping and logistics sector, and the importance of sticking to your passion!

Please watch the video on following link :